The cheapest car rental service in Podgorica airport (Montenegro)
Welcome to the leading online booking system for car rental in Podgorica airport and Montenegro. We link clients to reliable local rental companies via an online platform. Our services are specifically tailored to suit the needs of travellers and tourists arriving or departing the Podgorica airport. We offer you the opportunity to conveniently and quickly hire a car in Podgorica airport. Our services are practical, economically attractive and very affordable (between the range of €7 and to €200).
easy online booking process.
At the present time, 22 local car hire companies in Montenegro are currently working through our system. Price policy differs for each rental agency. As a result, the cost of car delivery and additional equipment can vary. You are advised to check the delivery cost for each car before making your choice. For example, the cost of delivery for one car can be €40, while for another car may be free.
Compare 3 possible ways of hiring a car in Podgorica airport
Rent a car in Podgorica — the best solution to the issue of a comfortable stay abroad. As a matter of fact, this will allow you to plan each day of your stay in Montenegro.
Upon arrival, you have these 3 options for renting a car:
International car rental companies in Podgorica airport like Hertz, Sixt, Avis, Europcar, Enterprise and Surprice. This is a reliable means of hiring automobiles. Unfortunately, it is expensive, and you need to allocate some of your time to find the right vehicle. Besides, there are certain terms and conditions set by these companies that some customers may find restricting. There should be a certain amount of money (deposit) on your bank card. Not everyone who comes to rest has extra free time and money to agree to such conditions.

Local car rental companies in Podgorica like Meridian, Renault, Green Motion, Delta, Simeun, MTL, Perfect, Nava and similar. This is a far better, cheaper and less limiting method of hiring cars. Luckily, these companies equally offer a good service. Although, you may still have to make yourself available so you can access the various cars before making a choice.

Our online booking system. This is the most convenient method of hiring vehicles as it allows you to book from the comfort of your homes, airplanes, etc. Also, you can see pictures and specifications of the vehicle you are renting. Many of these previously mentioned national rental companies are currently participating in our booking system. In fact, competition among these 22 companies is very high. So, they offer a lower price via our system than on their websites.
Based on customer feedback and reviews, we can conclude that our online booking system is the most cost, energy and time effective method. Of course, you should make your comparison and determine the best option for you.
How to book a car in Podgorica airport by using our online system – video instruction
How to rent a car in Podgorica airport for the cheapest price in Montenegro — step by step instruction
To quickly arrange a car hire in Montenegro (in Podgorica), check out the instruction on car booking.
Indicate the desired points for receiving and returning a vehicle. You can pick a car in one city and drop it off in another. As such, there is no need to change your already planned schedule of returning the vehicle. The names of cities are already indicated on the page – click on the drop-down to display them and select your choice. You can also rent a car in Tivat, Budva, Kotor, Petrovac, Sveti Stefan, Sutomore, Bar, Ulcinj and in many other cities of Montenegro.
After that, you can specify the start and end dates of your trip in our simple booking form. Just click on the field, and a calendar will pop up; there is no need to enter dates manually. We also provide an opportunity to compare the prices of various rental services and choose the option that best suits you.
You can select a car with an automatic or manual gearbox by setting the desired parameter in the "Gearbox" field. By default, it says "any". If you want a minivan or a convertible, just tick the box in one of the two check-boxes.
If you desire to rent a vehicle that has been thoroughly tested, then select the option "Rated — cars tested by our specialists using 22-point assessment checklist".

5. To make your search for appropriate cars as fast as possible, you can fill the following fields:
✓ Price for hire per day.
✓ Engine horsepower.
✓ Preferred fuel − diesel, petroleum or gasoline.
✓ Drive type.
✓ Gas consumption.
✓ Year of manufacture.
✓ Insurance policy type: CDW (Casco), SCDW (Super Casco) or without deposit.

To see all the necessary information on a particular car, select the car. Here you can find out specifications like body type, engine power, year of manufacture or type of insurance.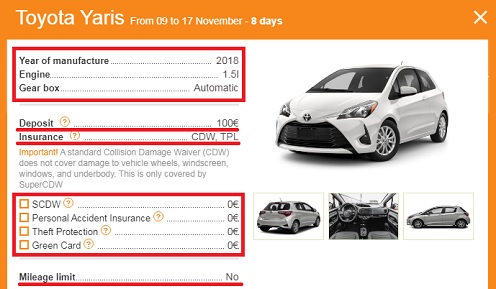 In the booking form, you can order additional equipment that will make your trip safer and more comfortable. Our customers can order a navigator, a safety seat for a child, a modem, and other equipment.
After specifying all the parameters you need, the system will automatically calculate and show you the full cost of rental and the amount that must be paid in advance.
Complete the reservation by clicking on the "Book now" button.

Afterward, you'll need to specify the pick-up and drop-off time and place.

Indicate all requirements expected from the driver of the rented car.
Finally, confirm all information and click "Pay now." Prepayment makes up 15 to 20% of the rental price. After the payment has been made, a voucher is automatically sent to your email to confirm the reservation.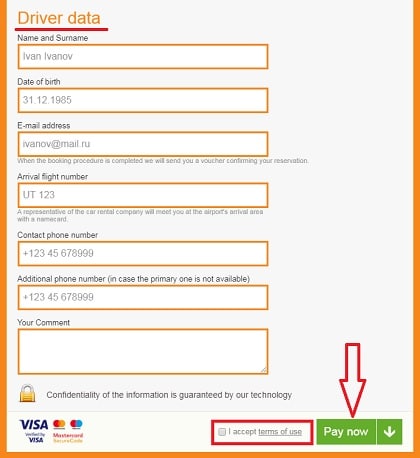 As you can see, the procedure for renting a good car has never been made easier. You now have the privilege of traveling around Podgorica and throughout gorgeous Montenegro in comfort.
For more information check out our frequently asked questions section.
In case you need any help, visit our contact page.
• Send a request via email.
• Contact us via phone, Viber or WhatsApp.
Why choose our services for renting a car in Podgorica and Montenegro
Renting a car at the airport Golubovci via us is in great demand because:
We work with only trusted companies throughout Montenegro.

At this instant, there are over 15 audited companies in our booking system. We also have a huge selection of over 550 cars. With this in mind, you can pick up a car that best meets your requirements and capabilities from our car booking catalog.

You will make a reservations without intermediaries, which saves you money.

Car hire in Podgorica through our portal is cheaper compared to international companies operating at the airport. To point out, our price range is from €7 to €200 per day.

There are no pitfalls. For this reason, you are guaranteed reception of the ordered car.

Our services are uniquely tailored to suit clients in the first place.

You can get behind the wheel right at the airport.

At the end of the trip, you can return the car to a representative of the company at the

airport in Podgorica

or any address of your choice.
Reasons why you should consider using the popular car hire service in Montenegro
A car facilitates movement. It will be much easier to travel to cities, visit all the beaches and beautiful sights in a private car than on public transportation.

There are no differences in traffic rules.

Roads in Montenegro are in excellent condition.

You can travel around the country without an international driver's license.

Low rental cost.

Affordable fuel price at gas stations.

Having a car at your disposal makes it is easy to find the cheapest and most comfortable accommodation for the duration of your stay in the country.

Not to mention that the ability to make excursions on your own, allows you to save money.
The cheapest car rental in Podgorica with no deposit and franchises
To point out on our portal, there is a possibility for car rental in Montenegro (Podgorica) with or without a deposit. Although for the most of cars you will need to pay a deposit, there are also about 10% of cars that you can rent without a deposit. To do this, use the Advanced Search function. Under the section "Insurance", deselect the deposit.
After that, the system will show you available cars that you can hire without a deposit.
The person renting the car must not be less than 22 years of age.

A minimum driving experience of 2 years.

Driver's license. If you have an international certificate, you still need to have a driver's license issued by the country of which you are a citizen.

Valid passport of the person for whom the car rental is arranged.
Car rental agreement in Podgorica airport
A contract will be issued in 2 languages: international — English, and the language of the host country — Montenegrin. Your responsibility is to fill in the official forms. Forms are certified by authorized state bodies. The contract includes all information about the vehicle, the rental company, the lessee and the lease terms, including the duration and cost.
What you need to know about car insurance in Podgorica
To clarify — the rental price includes TPL insurance. CASCO insurance (CDW) and Super CASCO (SCDW) insurance policies can also be provided for some cars. For information on additional services, please look at the page of the specific car.
In case of an accident, call the police. The police will issue a protocol that serves as the confirmation for insurance.
Important to realize that CDW insurance covers not all damages (like damage to tires and windshields entails). In case you want to cover these damages, you need to choose SCDW insurance.
Renting a car with a driver in Podgorica
Clients without valid licenses can choose to hire a driver. Unfortunately, this option is not directly available through our site. It is only possible through a "SitnGO" car rental service.
Renting a cabriolet or convertible in Montenegro
Convertible cars are special as they give you access to clean air, a new sense of speed and the sun for a modest fee. This machine is designed to provide extreme comfort, luxury and wide comfortable seats. Luckily, the cost of renting a convertible is not very different from that of renting regular cars.
Exceeding the boundaries of Montenegro in a rented car
Some countries bordering Montenegro permits the unhindered entrance of citizens and tourists. But others requests for official documents in advance.
Montenegro shares borders with:
Bosnia and Herzegovina, Serbia, Kosovo and Albania. In effect, all you need to enter these countries is a green card and a car rental contract with a note on leaving the host country.

Croatia — you will need a Schengen or Croatian visa, which can be issued in Kotor.
Travelling on a rented vehicle
Generally speaking, Montenegro is a small country. Its roads are structured primarily for car-tourism. For this reason there are no toll roads. Payment is required only when traveling through the Sozina tunnel (€2.5) or ferry crossing near the villages of Kamenari and Lepetani (€4.5).
Geographically, Montenegro occupies a mountainous territory; therefore, it is necessary to adapt to the movement along its roads. Especially you need to pay attention to mountain serpentine. As they are quite narrow, they may be problems with the movement on large off-roadster. In this situation, you just need to slow down, and let the other car pass. If you plan to travel more in mountainous areas, we recommend renting a car with a more powerful engine.
Fuel stations in Montenegro
There are many fuel stations in Montenegro. So, you can easily refuel an iron horse with 95 and 98 gasoline, or with liquefied gas. There are also a few stations for electric vehicles. The average price for gasoline is €1.3 /liter. All fuel stations in Montenegro accept MasterCard and Visa payment.
Parking in Montenegro comes with a fee, usually €1 per hour. To clarify — parking is highly prohibited in certain places. If issued a penalty for non-observance of the parking conditions, the renter has to make payment.
You can purchase parking tickets at a special kiosk. Please, put it under the windshield in your absence.
Car rental in Podgorica airport — reviews
Pick up and drop off locations of rented cars in Podgorica
Car rental in other popular towns in Montenegro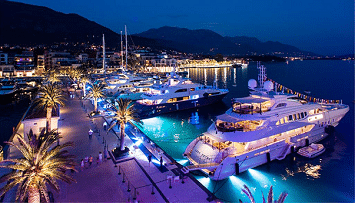 Tivat, 4km from the airport, is a city rich in history dating back to III century BC. It trails down, winding between the mountains down to the shimmering Adriatic Sea. It is home to the best beaches, national flavors, and mesmerizing landscapes.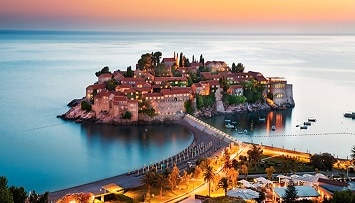 The small and cozy village of Sveti Stefan is another gem of Montenegro worthy of your time and exploration. It lies among the clear sea and rocks. Also, it is famous for its clean beaches sea, and vibrant atmosphere.
Petrovac is a wonderful location in the picturesque bay of the Adriatic Sea. Here you will enjoy the crystal mountain air, crisp fragrances of the pine forests, olive groves and monuments of early Christianity.
Budva is famous for its luxurious golden beaches and bustling nightlife. The city itself and the suburb creates a resort immersed in verdure at the Adriatic coast.
Bar is a city with a beautiful esplanade leading to its port. A state-of-the-art mosque and Orthodox Cathedral are its main highlights.
Becici is one of the warmest and most cozy towns in Montenegro, famous for its Mediterranean climate and affordable living. It is a perfect option for relaxation and family getaways.